Minnesota Chamber member-only resources to help you comply with new laws

The 2023 legislative session produced more increased costs and regulations on business than in the last decade. The Minnesota Chamber team is producing a series of webinars with agencies, policy and legal experts to help businesses make sense of changes they will have to make to their practices to comply with these new laws. Topics include paid leave, earned sick and safe time, legalizing cannabis, bans on noncompetes and specific chemicals in household products, as well as tighter rules and restrictions around air and water permits. Click here to view the webinar series.
When will new policies impact your business?

The Minnesota Legislature passed many bills this legislative session. Click here to view a timeline of when those bills become a reality for your business.
On-demand webinar: DEED on paid leave and new resources
Featuring: DEED Commissioner Matt Varilek

The brand new commissioner of the Department of Employment and Economic Development (DEED) and his staff cover a variety of topics in this webinar – from new resource opportunities for business and workforce grants and the expected timeline of their availability to key information about the state's new Paid Family and Medical Leave program – all within the oversight of DEED. This webinar is brought to you by the Chamber's Grow Minnesota! program. Click here to view the webinar.
Statewide Policy Tour on-demand recording

The Chamber's semi-annual Statewide Policy Tour is your opportunity to discuss how actions at the Capitol impact your business. This year, the Legislature passed more policies impacting businesses than in the previous decade. What do these new laws mean for your business? What are the next steps in encouraging lawmakers to make Minnesota an attractive, competitive place for business and talent? Throughout June, the Chamber hosted a series of tours throughout the state. Click here to view the on-demand webinar – a digital version of that presentation from the Minnesota Chamber's policy team.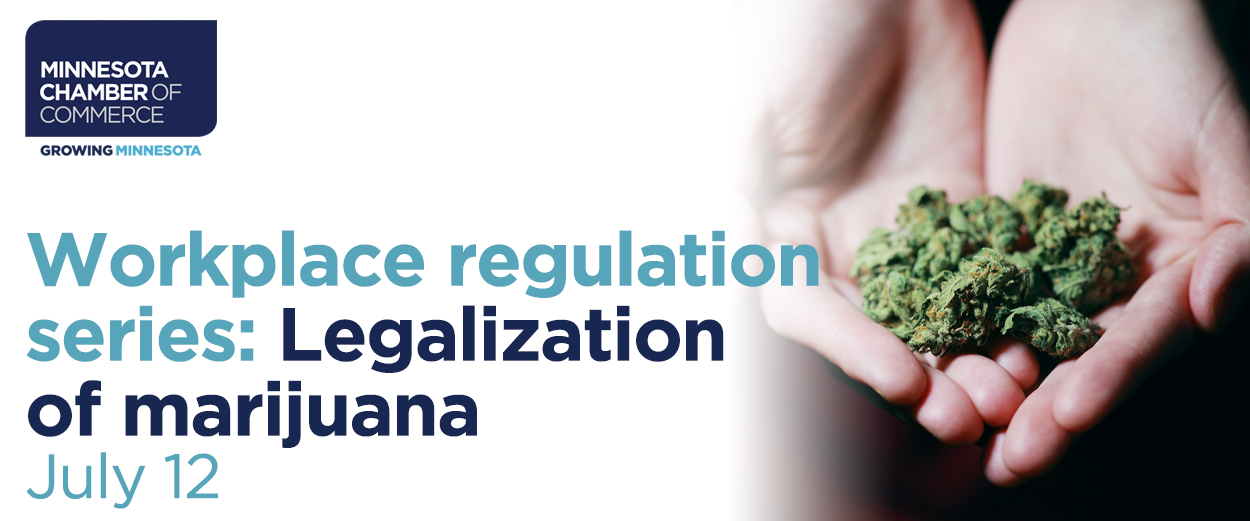 WEBINAR: Workplace Regulation Series - Legalization of Marijuana, July 12

During the 2023 legislative session, policymakers legalized the recreational adult use of marijuana. The legalization date of August 1 is quickly approaching, and it's important for employers to be prepared for the potential impact on the workplace. To help prepare your business and your workforce, the Minnesota Chamber is hosting a live webinar on July 12 at 1:00 p.m. with David James, a labor and employment attorney from Nilan Johnson Lewis. Get your questions answered on how to best prepare your workplace for this fast-approaching law change. Click here to register.

Chairman's Circle Chamber Members